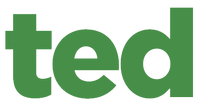 Ted, stylized as ted, is a comedy franchise, created by Seth MacFarlane.
Film series
Edit
Ted (2012)Edit
Main article: Ted (film)
In the suburb south of Boston, Massachusetts, a lonely boy named John Bennett (Brett Manley) gets a stuffed teddy bear for Christmas and names him Teddy. One night, since John has no friends, he wishes Teddy could come to life so they can be best friends for real. The next morning, his wish comes true and this results in Teddy (voiced by Zane Cowans) becoming a celebrity.
27 years later, John (Mark Wahlberg) and Ted (voiced by Seth MacFarlane) have their own place and they get their very own girlfriends: John meets Lori Collins (Mila Kunis) and Ted meets Tami-Lynn McCafferty (Jessica Barth).
Meanwhile, a stalker and "fan" of Ted named Donny (Giovanni Ribisi) is out to capture Ted to be his new toy, but he accidentally kills him during his escape; Ted eventually comes back to life, with the help of a wish made by Lori, and John and Lori get married. As well, Lori's boss Rex (Joel McHale) dies of Lou Gehrig's disease, Donny gets arrested (but is soon let out), and his son Robert (Aedin Mincks) becomes Taylor Lautner after getting a workout.
Ted 2 (2015)Edit
Main article: Ted 2
Ted marries Tami-Lynn and they try for a baby together, with Ted asking John (who has divorced from Lori) to provide sperm for artificial insemination. However, in order to have custody of this child, Ted has to prove to a court of law that he is a person and since he must have a legal surname, he goes for Clubberlang (taken from Mr. T's character from Rocky).
Cast and characters
Edit
Note: A dark gray cell indicates the character does not appear in the film.
References
Edit
Community content is available under
CC-BY-SA
unless otherwise noted.